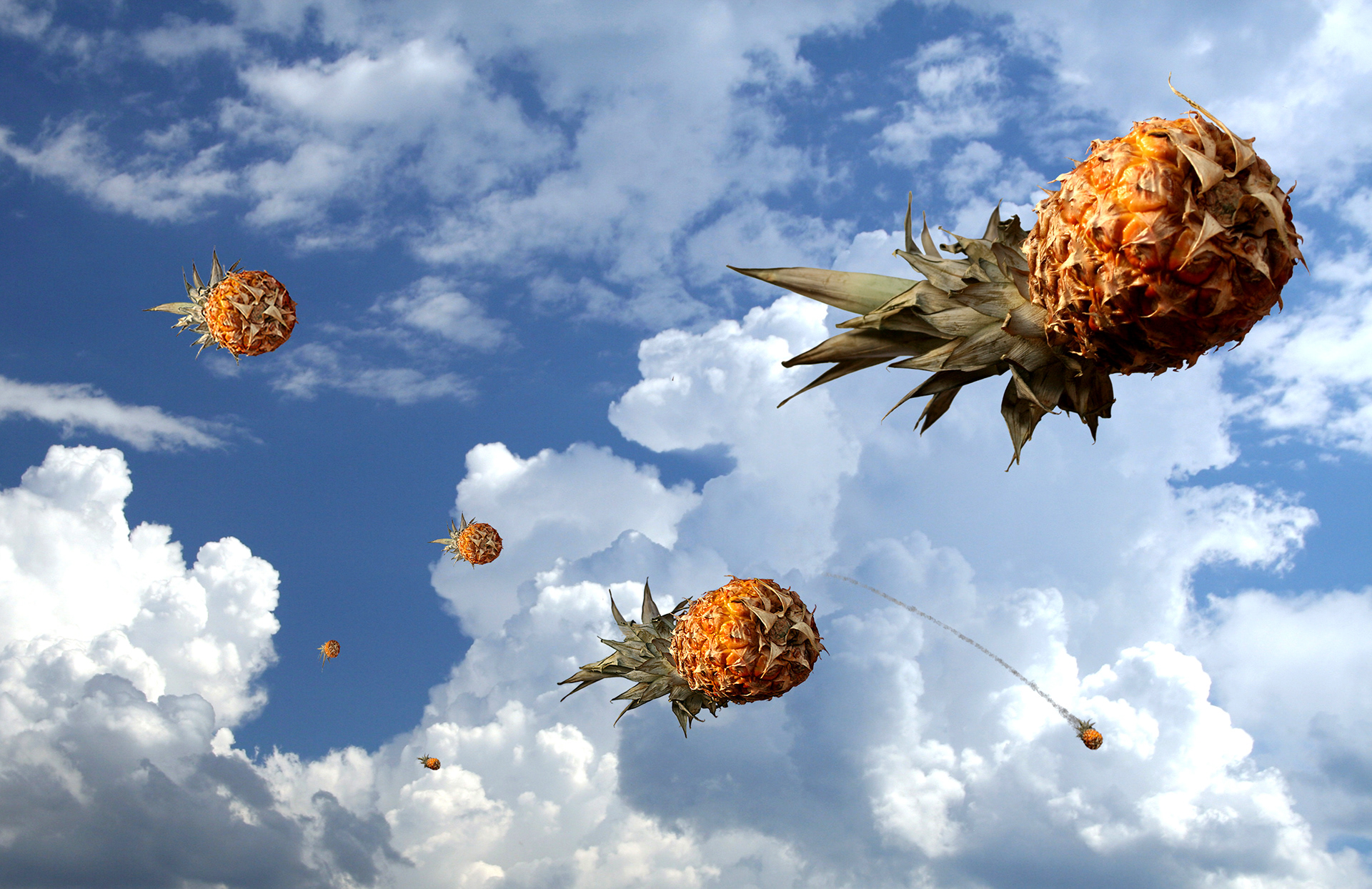 A squadron of pineapples diving through the clouds to attack the enemy. Nigel was wingman that day, but he was caught by fire from enemy anti-pineapple flak guns causing him to dive into oblivion. Nigel was naturally awarded a posthumous DPM (distinguished pineapple medal) and his portrait was hung in the mess room where his dog Blackie sadly continued to pine for him.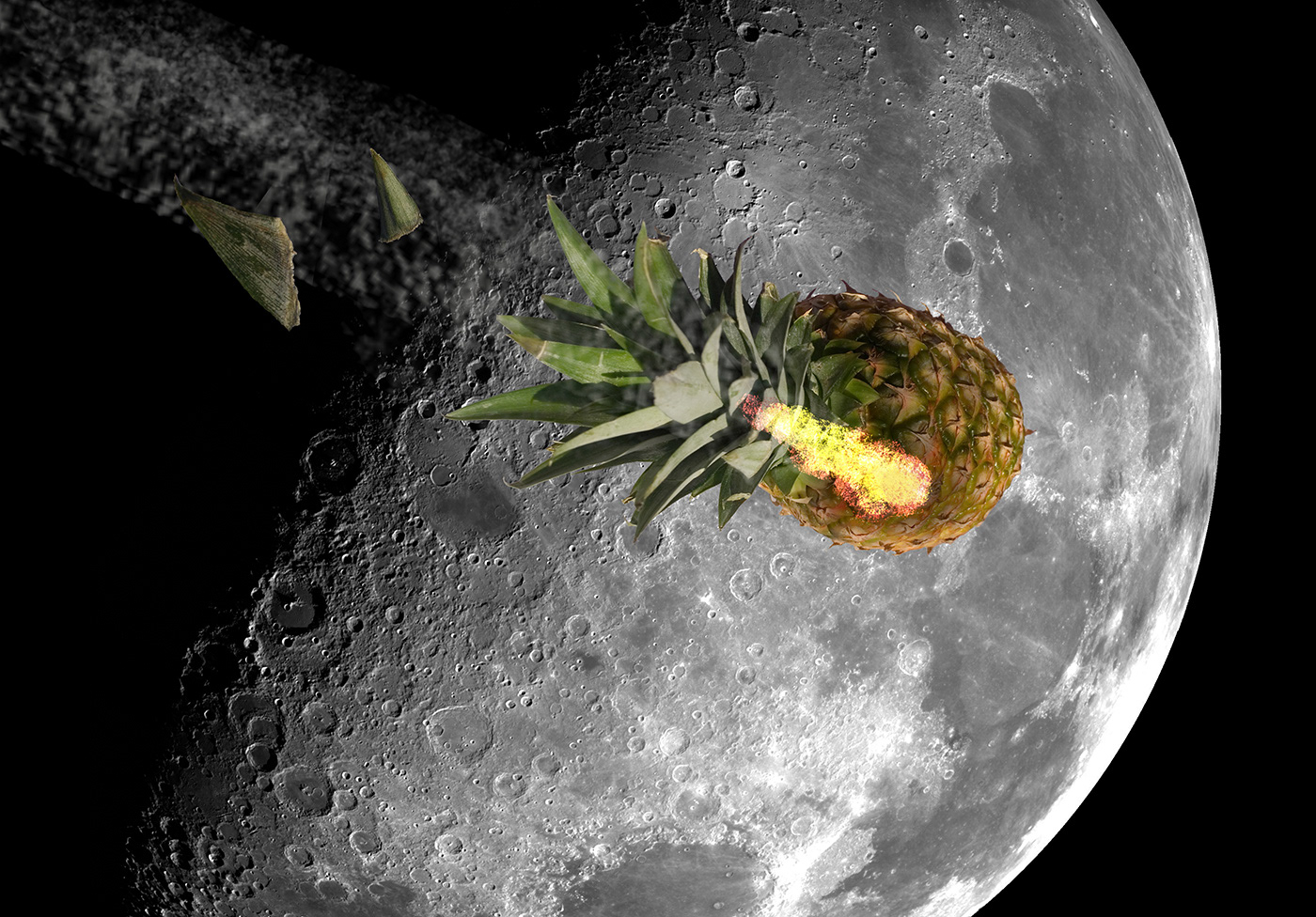 HOUSTON, WE'VE HAD A PROBLEM
To me, the similarity between NASA's Apollo moon vehicles and the shape of a Pineapple was remarkable. The journey to the Moon was a staggeringly complicated venture full of risk. An explosion rocked Apollo 13 on its way to the Moon. Astronaut Jack Swigert, radioed "Okay, Houston, we've had a problem here". As they fought to find a solution to get back to Earth, their oxygen began to run out, the ship's batteries began to fail. It looked impossible and the World held its breath. Would they survive?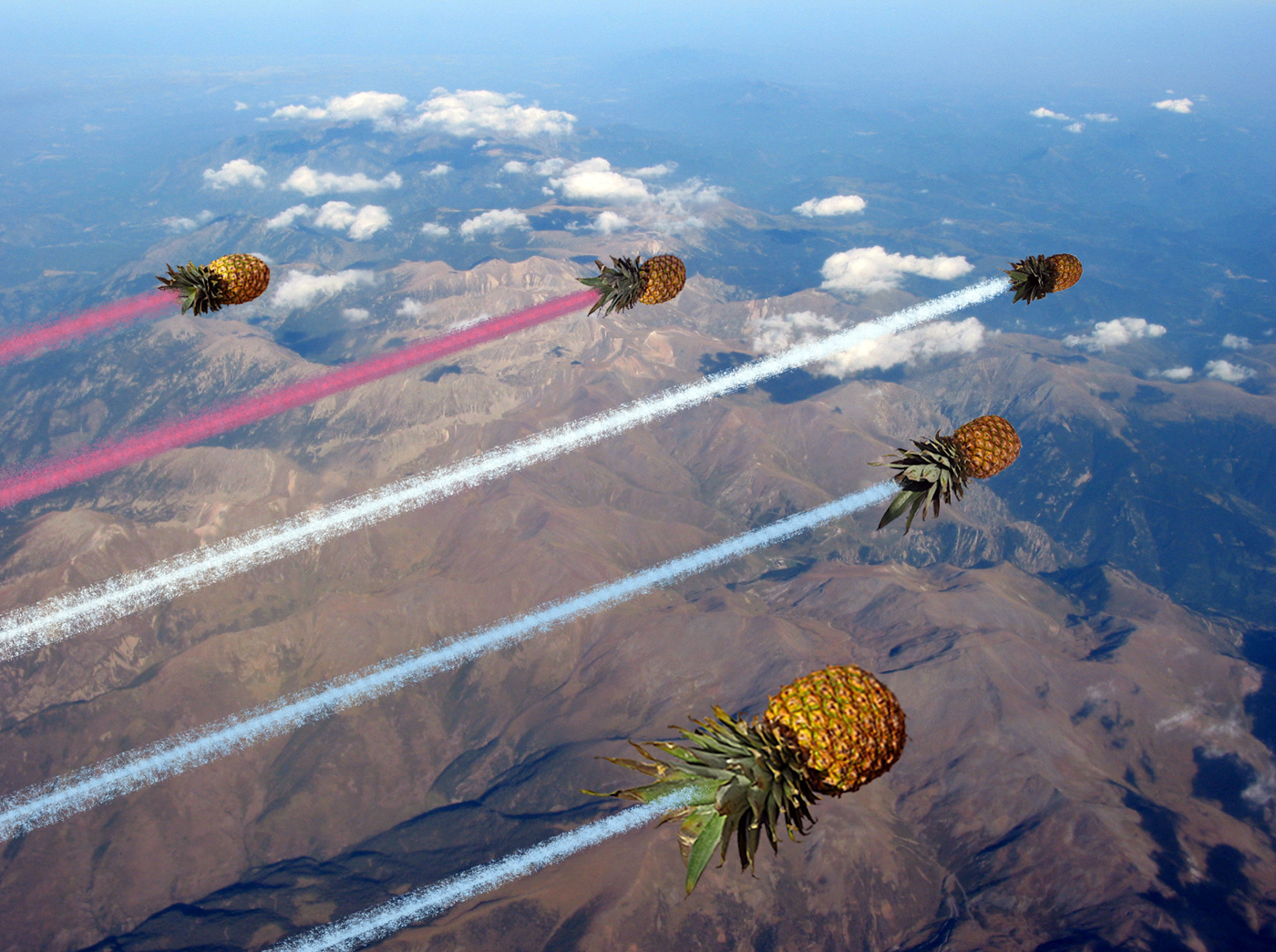 We were flying back to London. There was the Spanish landscape below. I still don't recall why but the famous UK's Royal Airforce aerobatic team "The Red Arrows" entered my consciousness. Their arrow formation with smokes on in the red, white and blue of our National colours appeared to be on a photoshop layer in my mind with Spain forming the background. I took a photo of the ground through the window. Back at home, the use of Pineapples seemed so much easier than trying to paste real jet aircraft into the image.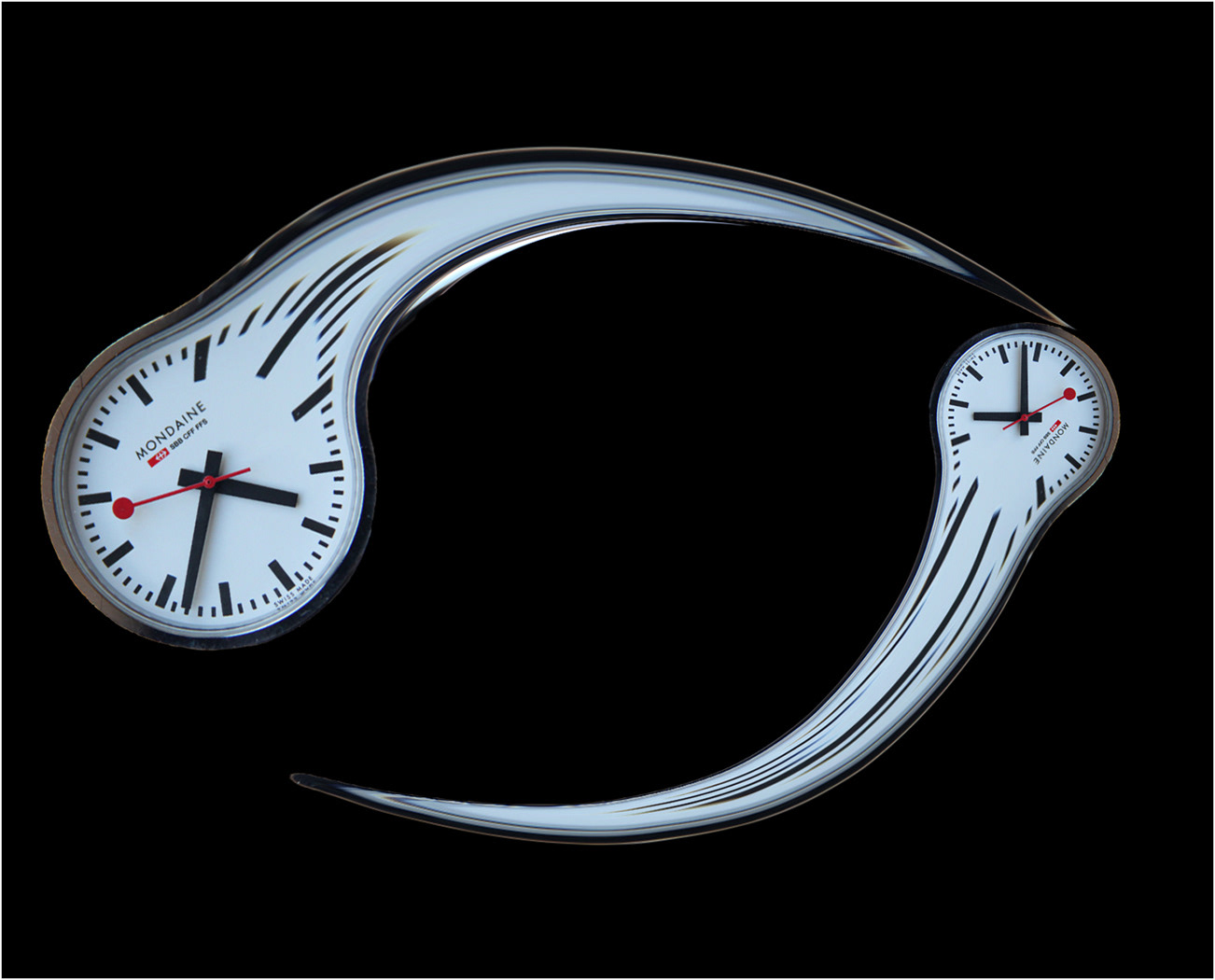 Everything has both Yin and Yang.      4:38am cannot exist without 4:38pm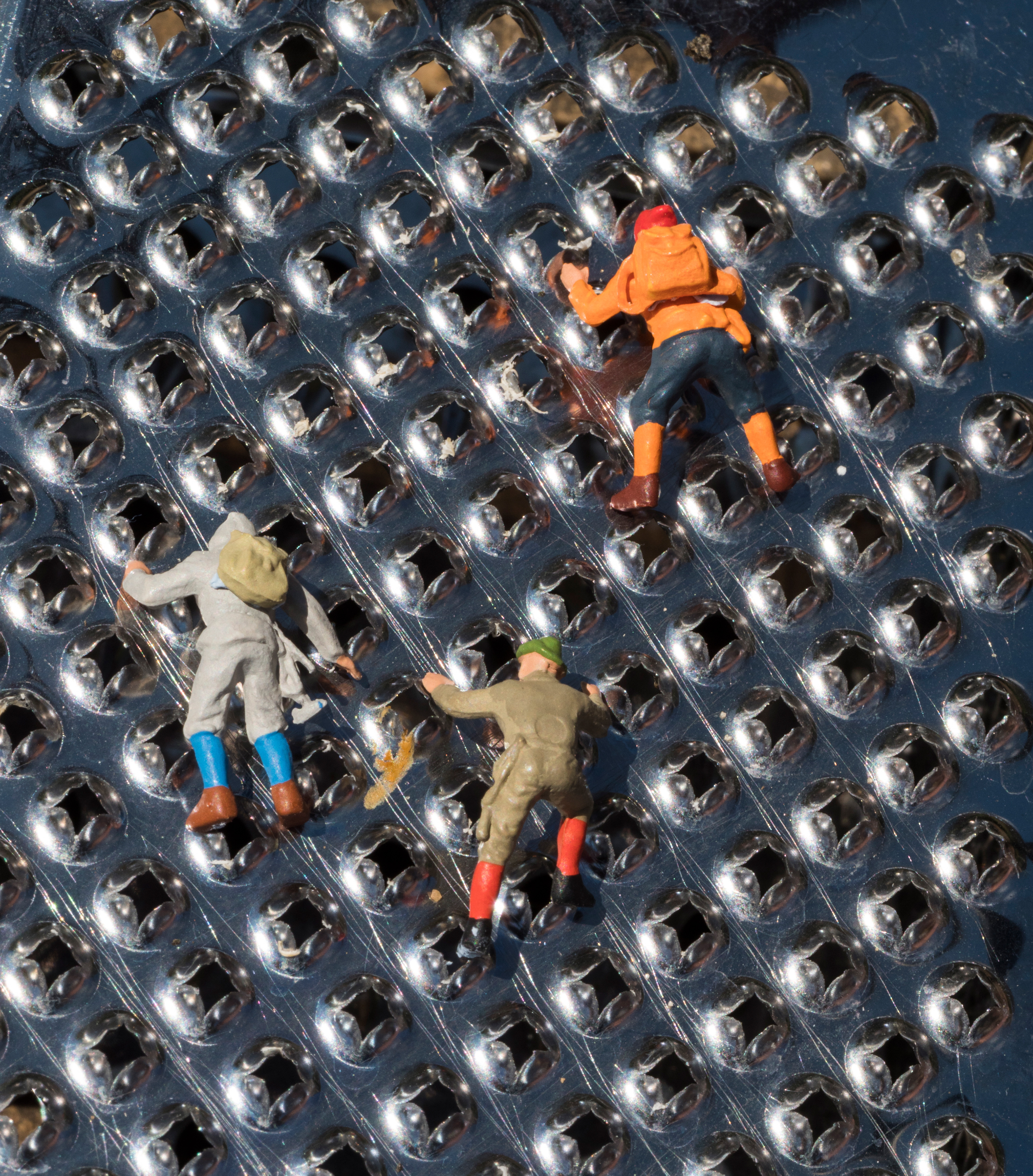 I was inspired by a television programme which showed climbers scaling a mountain without the aid of ropes. What drove them to do this? That vision stayed with me until a few days later when I saw my wife using a cheese-grater. What could be more difficult than climbing that surface totally unaided?
There is so much we are yet to discover about how the human brain works. 
If only we could see deeper into one's mind.